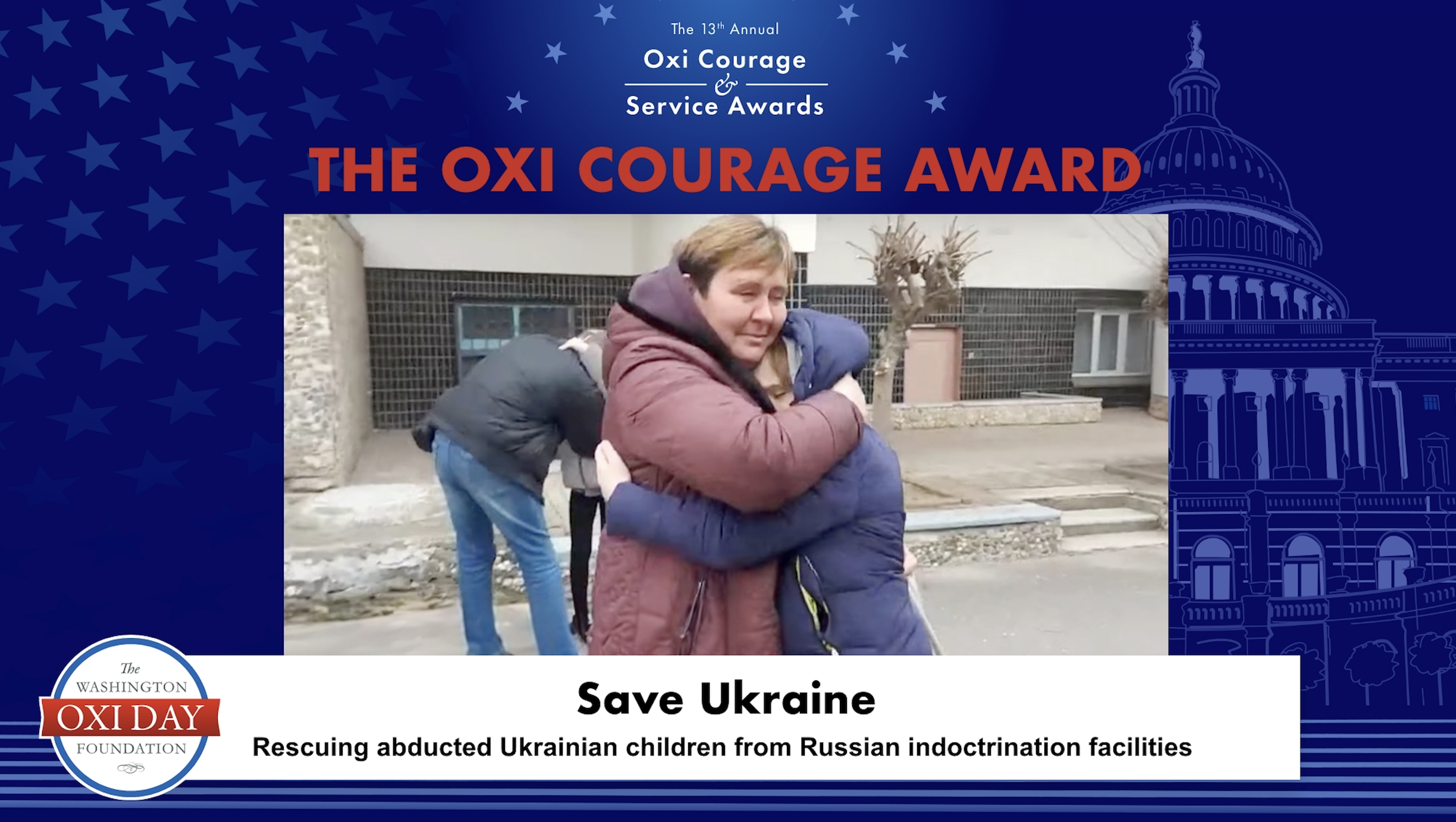 WASHINGTON, DC, November 7, 2023- The rescuers of abducted Ukrainian children forcibly placed in re-education camps in Russia and Russian occupied territories, Save Ukraine, received the 2023 Oxi Courage Awards alongside Hong Kong Democracy Activists on October 23 in Washington D.C. at the US Institute of Peace.

To see the video of this presentation and Save Ukraine's acceptance click here.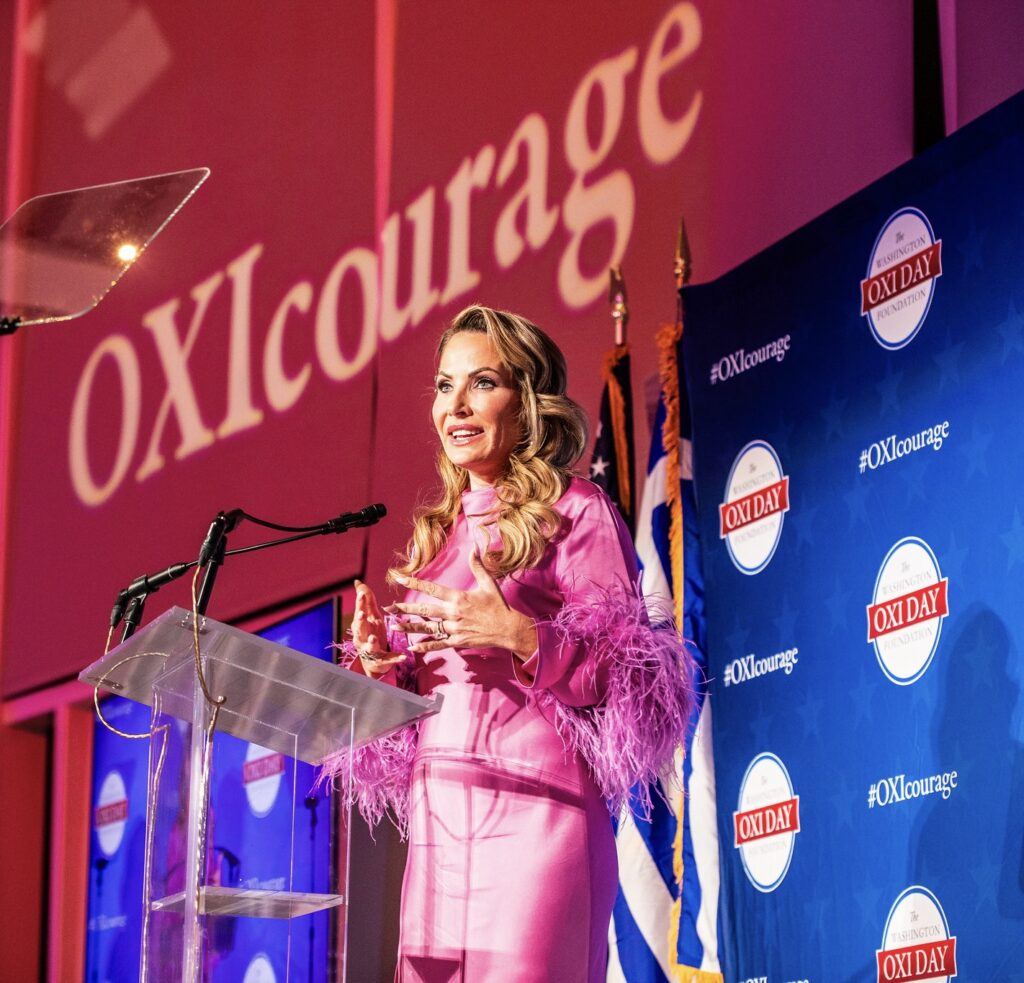 Washington Oxi Day Foundation Advisory Board Member and philanthropist Danialle Karmanos
---
In her introduction of Save Ukraine, Danialle Karmanos remarked:

"Being a parent is not just about giving life, it's about recognizing and feeling the inherent value of every life. That every child, regardless of where they come from, is a beacon of hope, deserving of love, safety, and a chance at happiness.

That's why tonight, we shine a spotlight on an organization that offers a beacon of hope in the darkest corners of the world. They face adversity, geopolitical conflict, and unimaginable challenges to save Ukraine's stolen children from the depths of despair.

Their actions embody the very essence of the OXI Courage Award- Saying "No" to injustice, "No" to the suffering of innocent children, and "No" to despair. Through the haze of pain, they emerge, not just as heroes but as symbols of what humanity can achieve when driven by love, compassion, and courage.

In acknowledging them today, we're not just applauding their efforts but recognizing the power we all have, as a collective, to change the world. "
---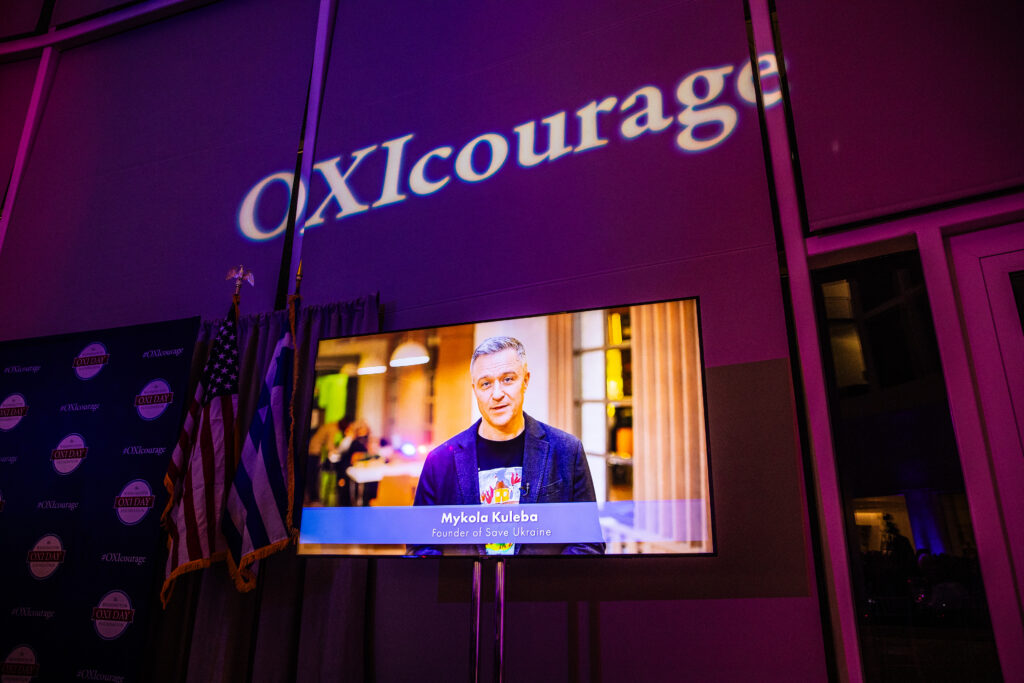 Save Ukraine CEO Mykola Kuleba
---
In his acceptance video, Mykola Kuleba the CEO Of Save Ukraine noted:

"This award is not a personal accolade but a tribute to the enduring courage that binds a nation across time and space. It celebrates the remarkable resilience of the Greek people during the second World War and the spirit of the Ukrainian people as we fight for our people, identity, and children's future.

It is a symbol of the courage that unites us all. The War in Ukraine has imposed a heavy burden, especially on our most vulnerable, our children. They have endured the unrelenting horror of shelling, the loss of their homes, abduction, psychological pressure, and propaganda. Countless families have been torn apart. Their lives disrupted by this unjust War.

Our team has shown immense bravery and determination for more than 600 days in this dire circumstance and we have committed ourselves to this task of saving Ukrainian children's lives. Securing their freedom and restoring their future. We work tirelessly to reunite them with their families and offering them a chance to embrace a life of normalcy and hope once more. "
---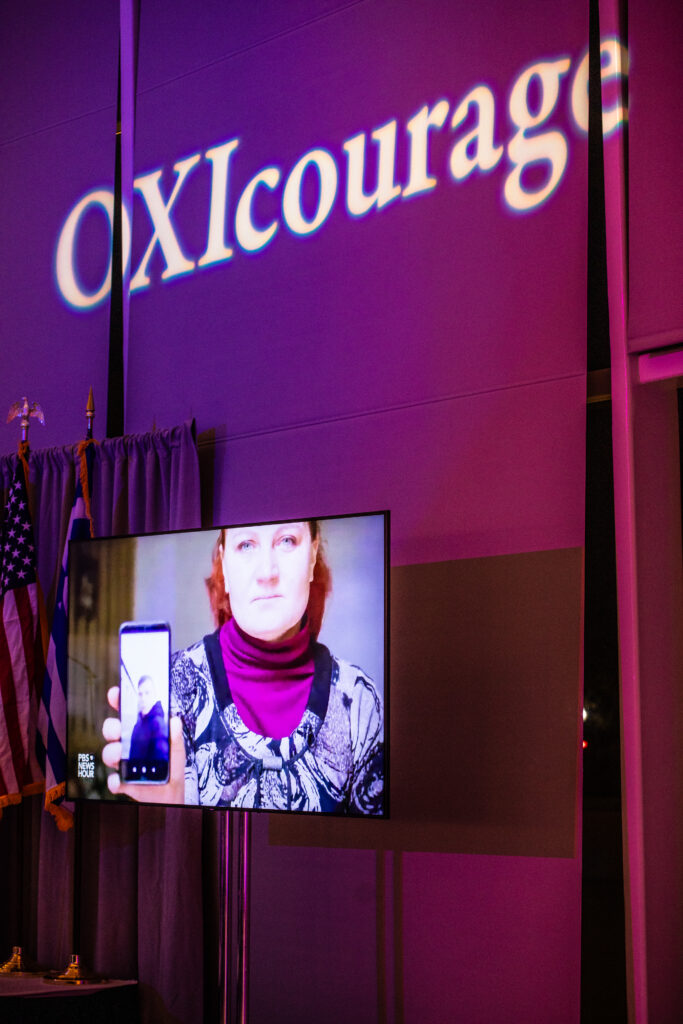 ---
Previous honorees of the Oxi Courage Award have included 
Ukrainian President Volodymyr Zelenskyy in 2022;
President Joe Biden and his son Beau Biden (posthumously) in 2016; 
Escaped survivor of ISIS atrocities Nadia Murad (nominated by Amal Clooney) in 2016 who then received the Nobel Peace Prize in 2018;
TIME Magazine Persons of the Year and journalists in 2019: Maria Ressa of the Philippines – who then received the Nobel Peace Prize in 2021 – and Jamal Khashoggi (posthumously) of Saudi Arabia;
Currently imprisoned and twice-poisoned Russian democracy activist Vladimir Kara-Murza in 2018.
US conflict journalist James Foley (posthumously) [introduced by President Bill Clinton], months after he became the first American publicly executed by ISIS in 2014; and
North Korean defector Ji Seong-ho in 2017.  Three months later he was featured before millions around the world in the President's State of the Union address.
---