WASHINGTON, DC, October 28, 2014—Former Presidents of America and Israel, Bill Clinton and Shimon Peres, respectively, joined the growing number of world leaders and other opinion leaders in recognizing the Oxi Day story — the David vs. Goliath courage of the Greek people in WWII.  President Clinton nominated and introduced the winner of the 2014 Oxi Day Award, journalist James Foley, the first American killed by ISIS in response to American airstrikes in Iraq.  President Peres received the 2014 Chrysostomos Award in recognition of his fight against discrimination throughout his distinguished career.  It was presented to him by the 2013 winner, American Jewish Committee Executive Director David Harris.
| | |
| --- | --- |
| President Bill Clinton introducing the 2014 Oxi Day Award recipient, James Foley. | |
Diplomats representing 18 countries and over 100 senior American government policymakers and opinion leaders from major think tanks, media outlets and human rights organizations participated in this year's Washington Oxi Day Foundation events in Washington, DC October 22-24.  As well, tens-of-thousands learned about Oxi Day through the media coverage of the commemoration.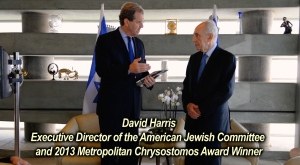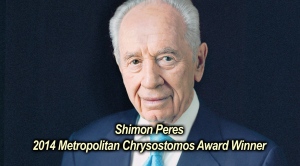 Other world leaders previously involved in the Washington Oxi Day Foundation commemorations included: Vice President Joe Biden; world-renowned singer and human rights activist, Bono; then-Secretary of State Hillary Clinton; the Chairmen of the Senate Foreign Relations Committee and the House Foreign Affairs Committee, Senator Bob Menendez (D-NJ) and Congresswoman Ileana Ros-Lehtinen (R-FL); Nobel Prize winners Elie Wiesel and Aung San Suu Kyi, to name a few.
| | |
| --- | --- |
| Parents of 2014 Oxi Day Award recipient, John and Diane Foley – being interviewed by Andrea Mitchell and at the gala, with (L to R) Greek Ambassador Christos Panagopoulos, US Ambassador to Greece David Pearce and Admiral James Stavridis. | |
Several national news stations and publications — including CNN, Fox News Channel, NBC, PBS, the Huffington Post, National Journal, Bloomberg News, Daily Beast, among others — covered this year's commemoration.  Many of them focused particularly on the individual who showed the kind of David vs. Goliath courage against ISIS today that the people of Greece showed against the Nazis during WWII — Oxi Day Award recipient James Foley.  According to a recent Wall Street Journal/NBC News poll, 94% of Americans were aware of Foley's execution and it was the biggest news event in the last half-decade.  Foley's parents, John and Diane, accepted the posthumous Award for their son.  Receiving the 2014 Battle of Crete Award was "the soul of the Ukraine's resistance", Ruslana Lyzhychko — one of Forbes' 10 most influential in the world in 2013 and a recipient of the 2014 US Secretary of State's Women of Courage Award.  Ruslana, who was nominated by the President of the National Endowment for Democracy, Carl Gershman, was introduced at the gala by the first US Ambassador for Global Women's Issues and Executive Director of the Georgetown Institute for Women, Peace and Security, Ambassdor Melanne Verveer.
| | |
| --- | --- |
| 2014 Battle of Crete Award recipient Ruslana Lyzhychko speaks at gala via Skype. | |
Philotimo played a major role in this year's gala, which was opened by George Marcus.  A trailer for the "The Greek Secret" video on philotimo — which received one quarter of a million views in the first week after its release — was played for the mostly non-Greek crowd of policymakers and opinion leaders.  Stavros Niarchos Foundation Director and Co-President, Andreas Dracopoulos, presented the First Annual Stavros Niarchos Foundation Philotimo Award to four doctors spearheading Mobile Medical Units in Greece.
| | |
| --- | --- |
| George Marcus and the "Greek Secret" video on philotimo. | |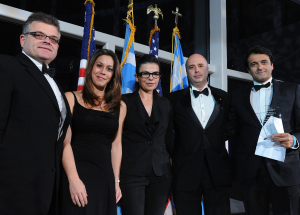 | | |
| --- | --- |
| Andreas Dracopoulos and winners of the First Annual Stavros Niarchos Foundation Philotimo Award the Mobile Medical Units in Greece. | |
Libra Group Chairman and CEO George Logothetis delivered the keynote address at the gala on the subject of philotimo.  And the winners of the First Annual Philotimo Scholarship Competition were announced. Nicholas J. and Anna K. Bouras Foundation Trustee, the Honorable Judge B. Theodore Bozonelis, received the scholarship for Aristaia and Daria Pappas of La Habra, California.  These 7th and 12th grade sisters, who spend most of their lives in a Russian orphanage, wrote:
 "We are not Greek by blood…but we are Greek by philotimo…our parents came into our lives when we were lost and alone. They bestowed upon us all the things that meant the most to them: their culture; their traditions; their morals, and their values, their philotimo. Now we know the meaning of the word philotimo and we can feel it too!"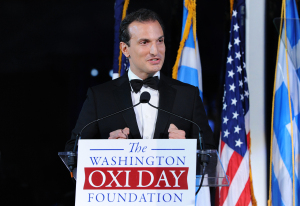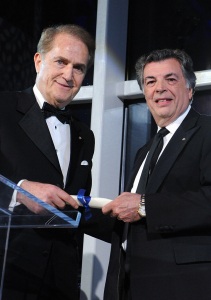 | | |
| --- | --- |
| George Logothetis delivering the keynote speech on "philotimo" and Judge B. Theodore Bozonelis receiving the Philotimo Scholarship from Oxi Day Foundation President Andy Manatos. | |
Admiral James Stavridis, former Supreme Allied Commander of NATO Global Operations, gave the keynote speech at the ceremony honoring three WWII veterans at the National World War II Memorial.  He was introduced by the 2013 keynote speaker, James Chanos.  The veterans honored were: the oldest Member of the US Congress in history, Congressman Ralph Hall; and posthumously Nicholas J. Bouras and his brother Sam Bouras, who was killed in WWII, and Greek Admiral Ioannis Toumbas.  Former Senator Paul Sarbanes introduced the Bouras brothers, and the award was accepted by Nicholas J. and Anna K. Bouras Foundation Trustee, William Crane.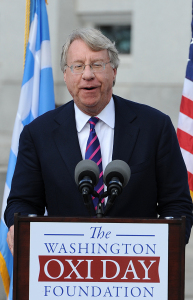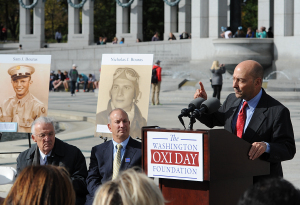 | | |
| --- | --- |
| Jim Chanos and keynote speaker, Admiral James Stavridis with former Senator Paul Sarbanes and Nicholas J. and Anna K. Bouras Foundation Trustee William Crane. | |
"Our foundation's mission is to remind the world of the great sacrifices and contributions the Greek people have made during their finest hours.  It is our hope that this will help restore the high level of esteem within which our people are held.  As well, we hope it will inspire people around the world to show this kind of courage and excellence for freedom and democracy," said Foundation founder and President Andy Manatos.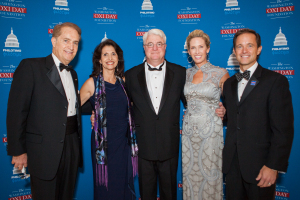 | | |
| --- | --- |
| John and Diane Foley with Andy, Mike and Laura Manatos. | |