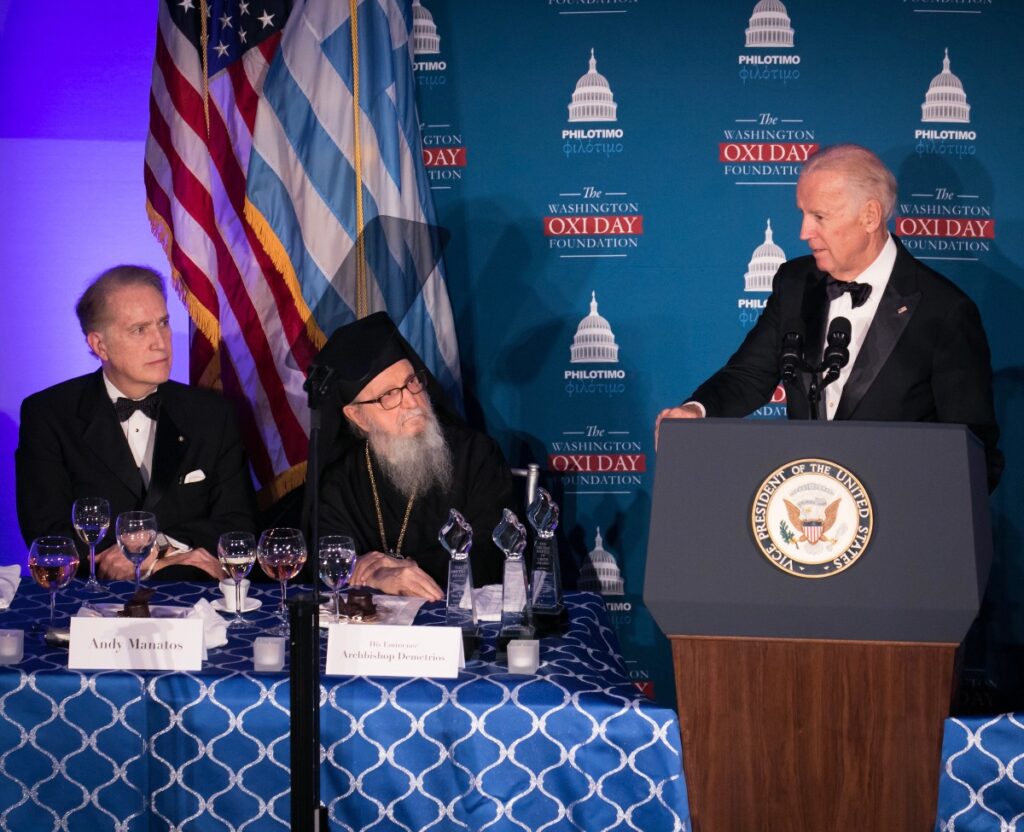 WASHINGTON, DC, March 25, 2021 – Today President Joe Biden – as Queen Elizabeth's husband Prince Philip, renowned musician Bono and others with audiences of millions have done as well – highlighted the forgotten story of Greece's #OXIcourage which he learned through his participation with the Washington Oxi Day Foundation.
This impactful work of the Foundation over our first 10 years has been made possible by the generous support of a number philanthropic Hellenes, including: the Michael and Mary Jaharis family; the Nicholas J. and Anna K. Bouras Foundation; Jim Chanos; Libra Group and the Logothetis Family; Dennis Mehiel; George Marcus; Michael Psaros; John P. Calamos; the James and Theodore Pedas Family Foundation; the Stavros Niarchos Foundation; the Vasilios S. and Aphrodite B. Haseotes Family Foundation; James and Zoe Moshovitis; the Stephen G. Yeonas family; the Spyropoulos family; Maria Allwin; Danialle and Pete Karmanos; and the Metropoulos Family Foundation, among others.
We are proud that Oxi Courage Award recipient President Joe Biden, in his video released today, said:
"For 200 years our nations' fates have been intertwined. Young people from the newly formed United States joined Greeks in their fight to defend democracy and individual freedom. And when Axis powers were on the march in Europe in WWII, the Greeks bravely said NO and joined us in the fight for universal rights."
President Biden added:
"I have seen up close the courage, strength and character of the Greek and Greek-American communities."
As President Franklin Roosevelt said, "When the entire world had lost all hope, the Greek people dared to question the invincibility of the German monster." British Prime Minister Winston Churchill said, "If there had not been the virtue and courage of the Greeks, we do not know which the outcome of World War II would have been."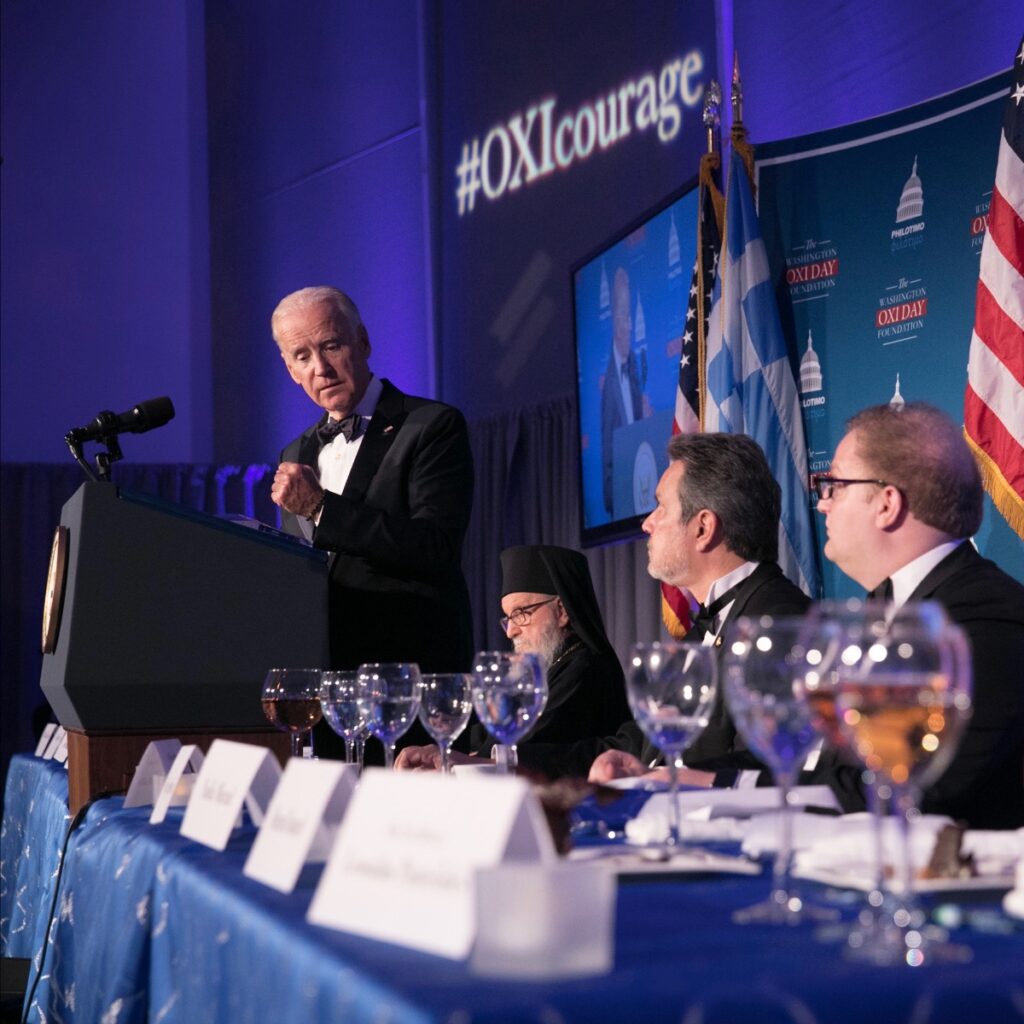 In October of 2016 then-Vice President Biden, along with his son Beau (posthumously), were honored at the Oxi Courage and Service Awards in Washington, DC. Also honored that night was escaped ISIS sex slave Nadia Murad, who two years later was awarded the Nobel Peace Prize, becoming the second youngest recipient of this award in history.
To see Biden's acceptance speech from that night click here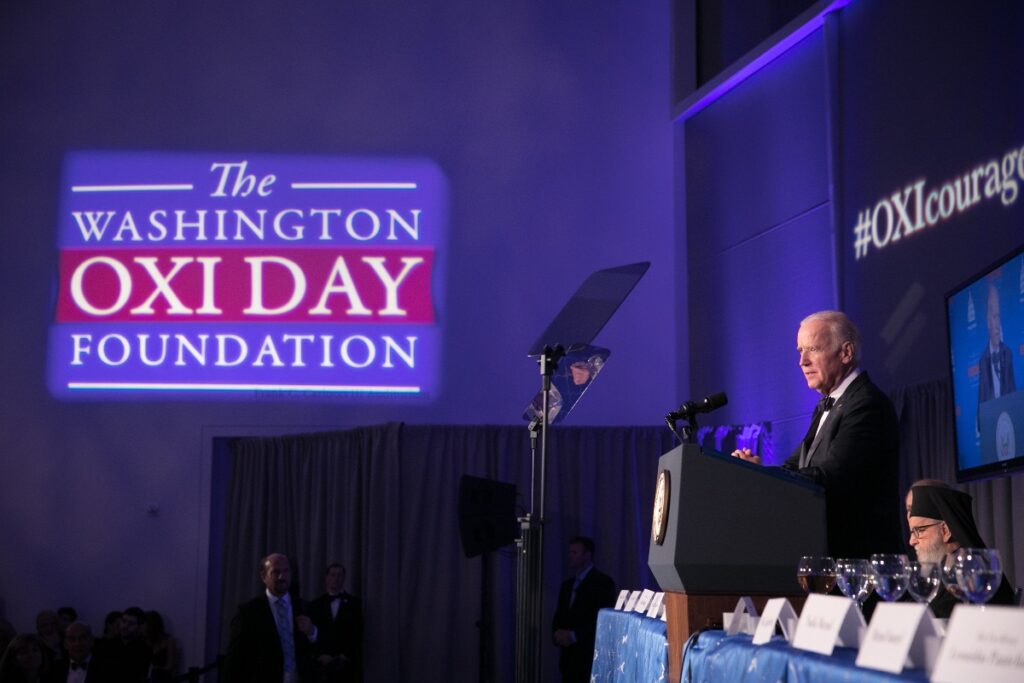 President Biden joins numerous other world leaders that the Washington Oxi Day Foundation has engaged in its first 10 years who have given re-birth to Greece's greatest moment in modern history.
Others include: Human rights lawyer Amal Clooney, renowned musician and humanitarian Bono, former President Bill Clinton, former Senate Majority Leader Bob Dole and Speaker of the House Nancy Pelosi who have nominated and introduced a number of our honorees; American icons astronaut and former Senator John Glenn and former Congressman John Lewis; world leaders including former President of Israel Shimon Peres and His Royal Highness Prince Philip, the Duke of Edinburgh; Nobel Laureate Elie Wiesel; TIME Magazine persons of the year, journalists Maria Ressa and Jamal Khashoggi; journalist and documentary filmmaker James Foley; and pro-democracy activists including twice-poisoned Russian Vladimir Kara-Murza and North Korean defector Ji Seong-ho, among others.