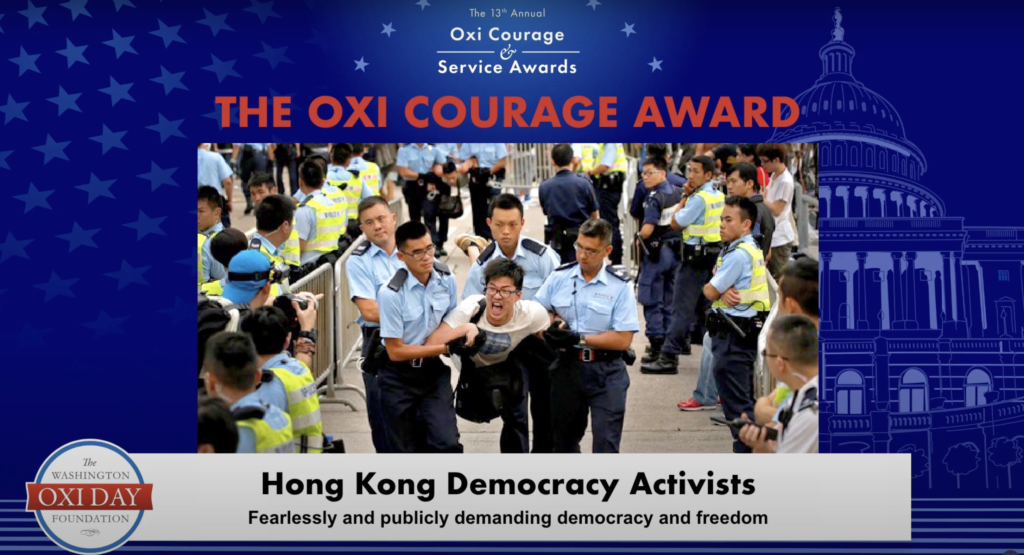 ---
WASHINGTON, DC, November 8, 2023- Imprisoned Hong Kong Democracy received the 2023 Oxi Courage Award on October 23 in Washington D.C. at the US Institute of Peace. They were honored, alongside Save Ukraine, for their tireless fight for civil liberty and democratic freedom against Beijing-controlled courts.

To see the video of this presentation and Chow's acceptance, click here.
---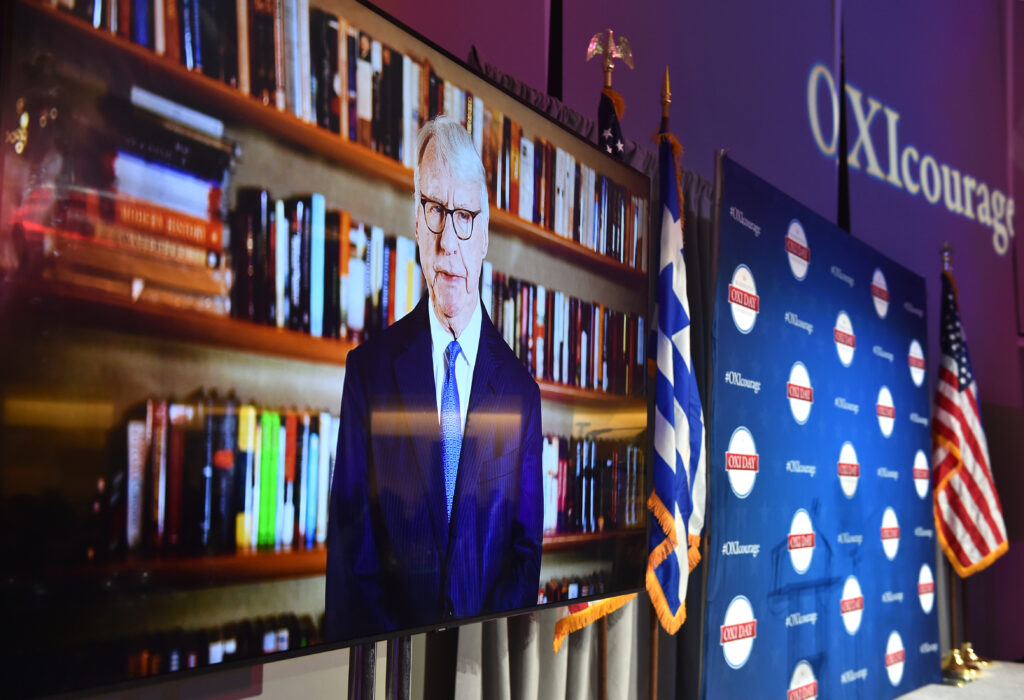 Washington Oxi Day Foundation Advisory Board Member, Jim Chanos
---
In his introduction, Jim Chanos, Washington Oxi Day Foundation advisory board member, noted that:

"The young people of Hong Kong bravely took to the streets to protest directly. Over the next few months over ten thousand Hong Kong Citizens were arrested with roughly 2600 suffering injuries, 20 fatalities linked directly to the demonstrations. Over 2700 were charged with crimes by Hong Kong's new communist party overlords. China itself responded in 2020 with a harsh new Hong Kong security law which in effect eliminated the sovereignty safeguards of the original 1997 treaty.

Yet, still hundreds of brave, young freedom demonstrators face draconian prosecution from the Chinese Communist Party Courts for exercising their then legal rights to protests unjust laws. It is in the spirit, of the brave Greeks of 1941 who stood up in the face of tyranny that tonight we award the Oxi Courage Award to Hong Kong's Democracy activists."


---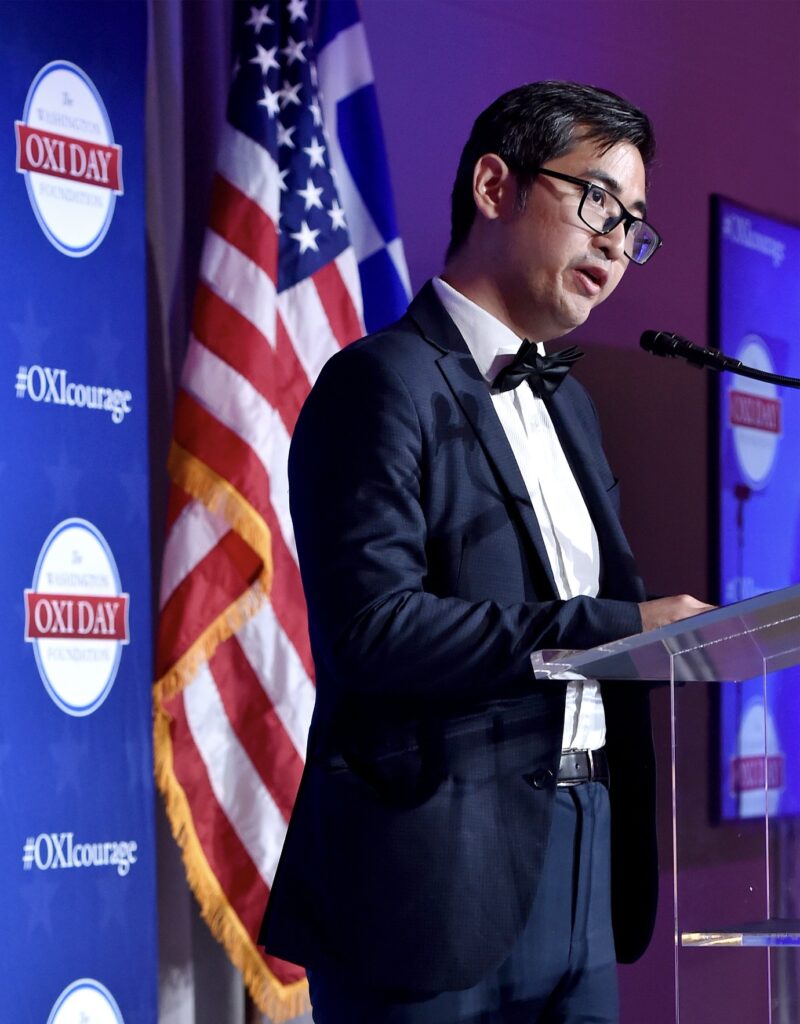 Nobel Peace Prize nominee and former Hong Kong political prisoner Alex Chow
---
Alex Chow, a former Hong Kong political prisoner, Nobel Peace Prize nominee, and Hong Kong Democracy Council Board Member accepted the OXI Courage Award on behalf of his colleagues.
In his acceptance, Alex Chow remarked:

"…I witnessed the relentless persecution of hundreds of my colleagues in Hong Kong. They were beaten, detained, persecuted, jailed, and charged by the government for their valiant attempts to challenge the status quo. It pained me to my core that I couldn't prevent these brutal sentences from befalling my comrades.

When I reflect on the concept of courage, I'm reminded of the Greek notion of "Oxi" – the courage to say no to the Nazi invasion of Greece in 1940. True courage isn't about sacrificing everything for any cause at all costs. It's about dedicating yourself to something greater than yourself. It's about being motivated to offer your body and soul for the well-being of others and the collective. Just as the Greeks aspired to protect their families, friends, colleagues, human dignity, and freedom in the face of war, it's the same set of values, ideas, and dreams that the Ukrainians and the Hong Kongers are fervently striving to safeguard.

Just as the Greek heroes stood up against Nazi Germany, and Ukrainians continue to resist Putin's ambitions, we, the Hong Kongers, are standing up with the courage to say no to the PRC dictatorship. It's a regime that tempts the world with short-term profits in exchange for the longer-term values of freedom and democracy. Today, it's my distinct honor to stand here and receive the Courage Award on behalf of the Hong Kong Democracy Activists, especially the 1,500 imprisoned colleagues, friends, and ordinary Hong Kongers.

We must stand united as freedom and democracy-loving individuals. I implore you to continue supporting us, to engage in dialogue with us, and to embark on this courageous journey alongside us. Together, we can forge a brighter future for all of humanity. Let us say "Oxi" to fear. Let us say "Oxi" to the PRC dictatorship."
---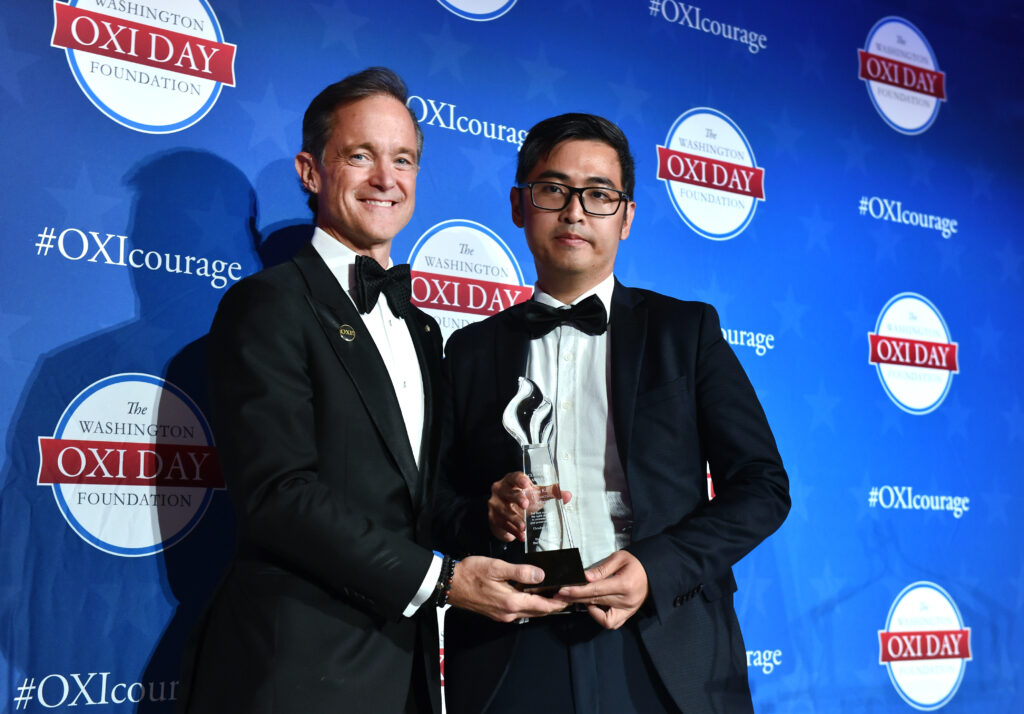 Washington Oxi Day Foundation Executive Director, Mike Manatos and Alex Chow
---
Previous honorees of the Oxi Courage Award have included 
Ukrainian President Volodymyr Zelenskyy in 2022;
President Joe Biden and his son Beau Biden (posthumously) in 2016; 
Escaped survivor of ISIS atrocities Nadia Murad (nominated by Amal Clooney) in 2016 who then received the Nobel Peace Prize in 2018;
TIME Magazine Persons of the Year and journalists in 2019: Maria Ressa of the Philippines – who then received the Nobel Peace Prize in 2021 – and Jamal Khashoggi (posthumously) of Saudi Arabia;
Currently imprisoned and twice-poisoned Russian democracy activist Vladimir Kara-Murza in 2018.
US conflict journalist James Foley (posthumously) [introduced by President Bill Clinton], months after he became the first American publicly executed by ISIS in 2014; and
North Korean defector Ji Seong-ho in 2017.  Three months later he was featured before millions around the world in the President's State of the Union address.
---