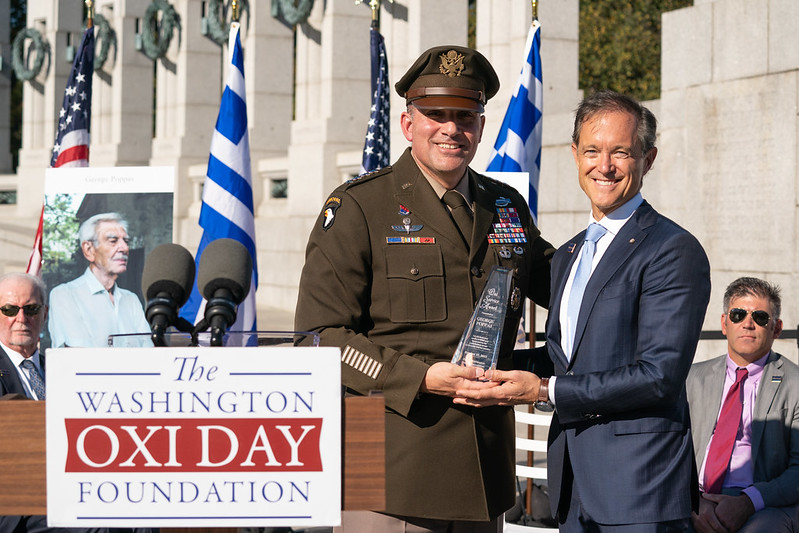 WASHINGTON, DC, November 23, 2022 – Greek-American veteran George Poppas was honored with the 2022 Oxi Service Award. Poppas's son, the highest-ranking Greek-American in the U.S. Military, and one of only 17 four-star generals in the U.S. Army, Commanding General of U.S. Army Forces Command Gen. Andrew Poppas, accepted the award on his father's behalf.

As a boy in Nazi-occupied Greece, Poppas supported the nation's resistance to Axis rule by printing and distributing resistance flyers, painting anti-Nazi slogans, and running supplies and intelligence into the hills to partisan fighters. He was wounded in one operation, and relied on a local butcher for care when no doctors were available. In 1946, after the German withdrawal from Greece and at the age of 15, Poppas traveled alone to New York City, where he found work at a local Greek diner.

As a naturalized American citizen, Poppas was drafted into the U.S. Army during the Korean War. Because of his European background, being a native Greek speaker with multiple other language skills, he was selected to conduct counter-intelligence operations against the Soviet Union blending among the displaced people in post-WWII Germany.

To see a video of this presentation, click here.
To see photos from the Oxi Service Awards, click here.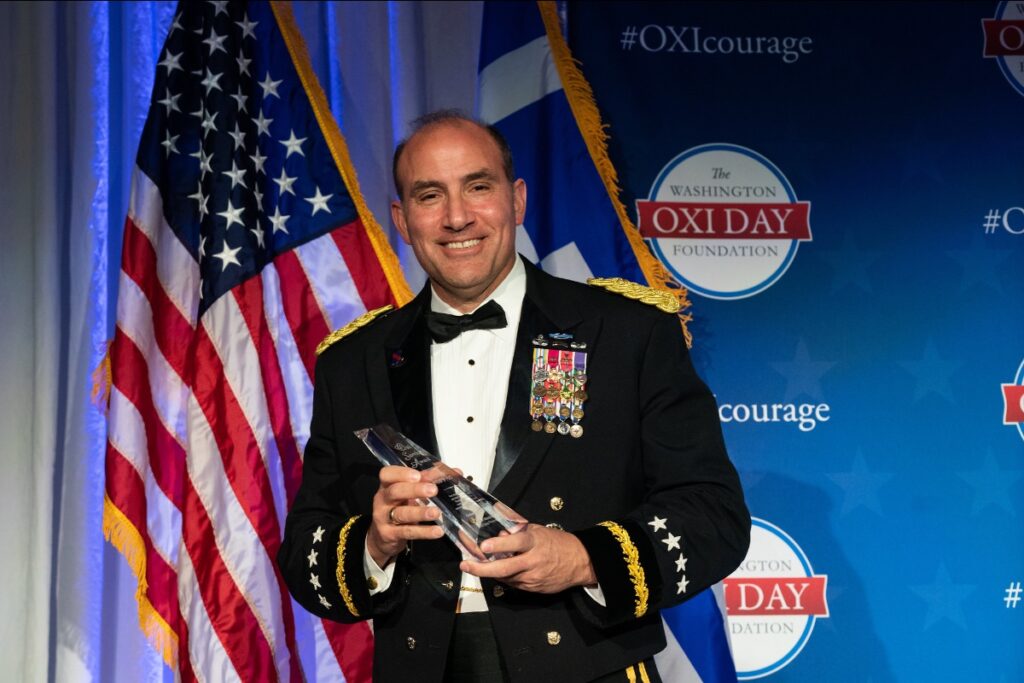 Last year, the Oxi Service Award was presented to distinguished Korean War veteran Stephen Cherpelis.
Cherpelis served in Korea with the United States Army from 1960 to 1962 as a Sergeant in the Military Police, 3rd Army, 2nd Infantry Division, stationed at Kimpo, Ascom area command servicing the DMG 38th parallel.
To see the Cherpelis presentation, click here.