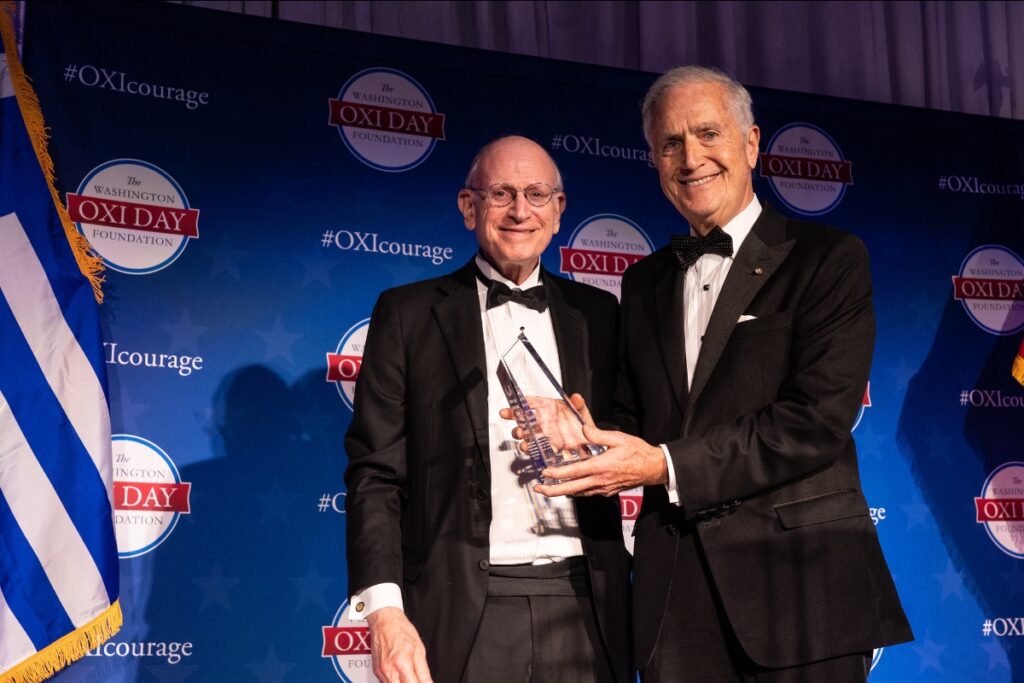 WASHINGTON, DC, November 16, 2022 – Ambassador Stuart Eizenstat, Special Advisor to Secretary of State Tony Blinken on Holocaust Issues, was honored with the prestigious 2022 Metropolitan Chrysostomos Award on October 27 at the Oxi Courage Awards held at the US Institute of Peace. President Volodymyr Zelenskyy of Ukraine and Iranian women's rights activist Masih Alinejad were honored as well with the 2022 Oxi Courage Awards.
The Metropolitan Chrysostomos Award is presented each year to recognize lifelong commitment to combatting anti-Semitism, discrimination and intolerance. Previous recipients have included: the worldwide spiritual leader of Orthodox Christians, His All-Holiness Ecumenical Patriarch Bartholomew; former President of Israel Shimon Peres; Holocaust survivor and Nobel laureate Elie Wiesel; and the late civil rights icon known as "the conscience of the Congress" John Lewis.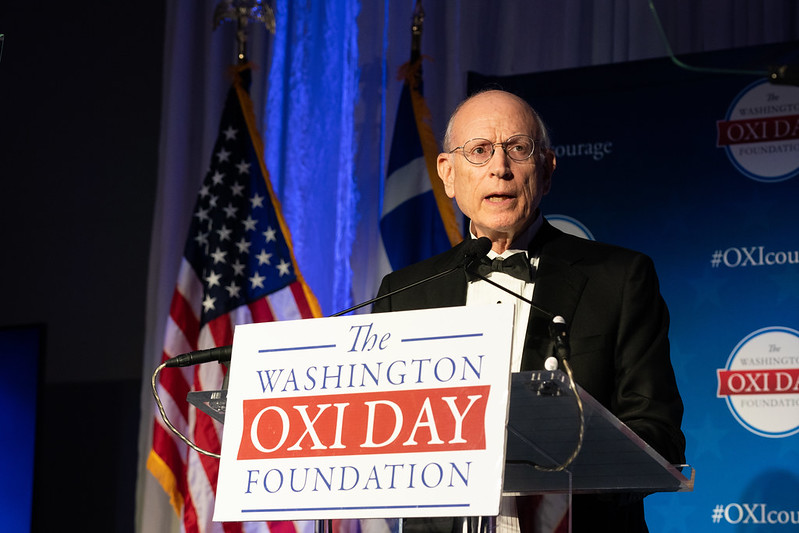 Washington Oxi Day Foundation President and Founder Andy Manatosintroduced Eizenstat.
To see the video of this presentation, click here.
To see photos from the Oxi Courage Awards, click here.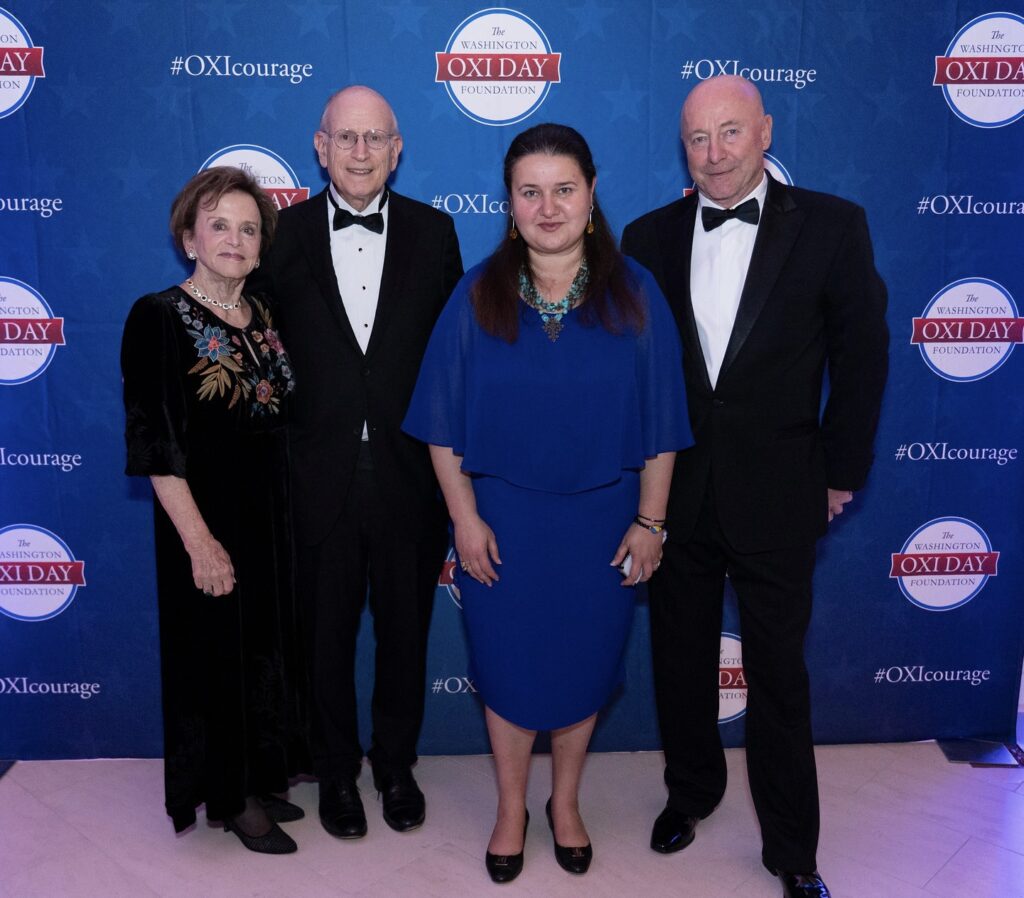 In his remarks, Eizenstat noted:
"It is especially meaningful to receive an award in the name of Metropolitan Chrysostomos, because of my work to secure a measure of justice for Holocaust survivors and dignity in their declining years…He is an exemplar of courage, recognized by Yad Vashem as the Righteous Among Nations.
"The Greek resistance and the Greek Orthodox population helped many Jews escape. While the SS deported virtually all the Jews in German-occupied Salonika in 1943, they caught less than half of the Jews of Athens…including Metropolitan Chrysostomos, 362 Greek citizens were recognized by Yad Vashem as Righteous Among Nations, an impressively high number for a small nation.
"When the Nazi expulsion of Jews from Thessaloniki to the concentration camps began, Archbishop Damaskinos of Athens and All Greece published a sharp condemnation saying, 'I spoke to the Lord and made up my mind to save as many Jewish souls as possible.'
"In Athens, the Jewish community swelled from 3,500 before the war to 10,000 with Jewish refugees from Salonika. Many Greek police officers and members of the Greek Orthodox Church shielded Jews from persecution by falsifying baptismal papers, saving approximately 10,000 who were hidden in monasteries, convents and orphanages in Greece or taken to one of the many islands.
"It should be noted that the first and only armed prisoner uprising at Auschwitz-Birkenau was led by several hundred Greek Jews.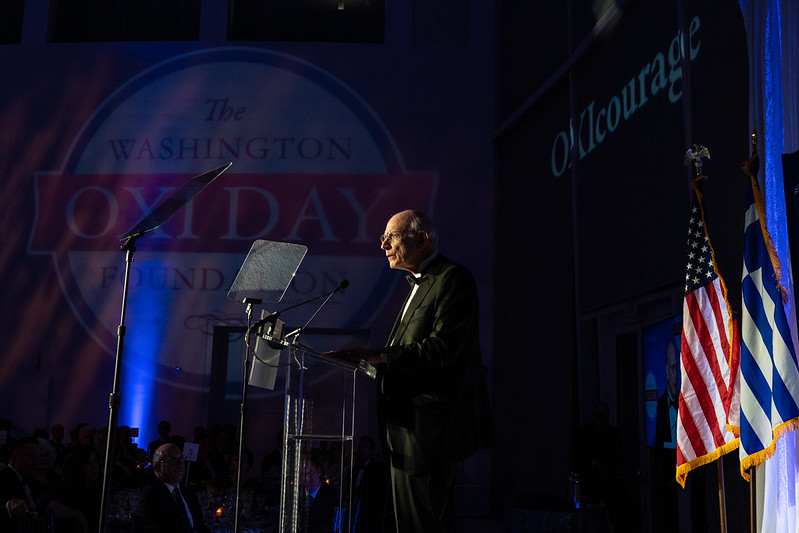 Eizenstat challenged those in attendance to recognize two obligations in which he has been deeply involved. He concluded:
"The first is to assure that Holocaust survivors, of whom there are now 275,000 worldwide, are provided the maximum dignity in their old age that they were deprived of in their youth. The second, and the most enduring, is expanded Holocaust education both to look back to honor the memory of the six million, including one and a half million children, but to learn the lessons of the Holocaust in our troubled world today: What happens when the rule of law breaks down; when minorities are victimized; when hatred is allowed to flourish; when average people and nations are silent in the face of injustice, human rights violations, and genocide anywhere in the world.

By taking these lessons to heart, we not only pay the greatest tribute to Holocaust victims but we act in the spirit of Metropolitan Chrysostomos."