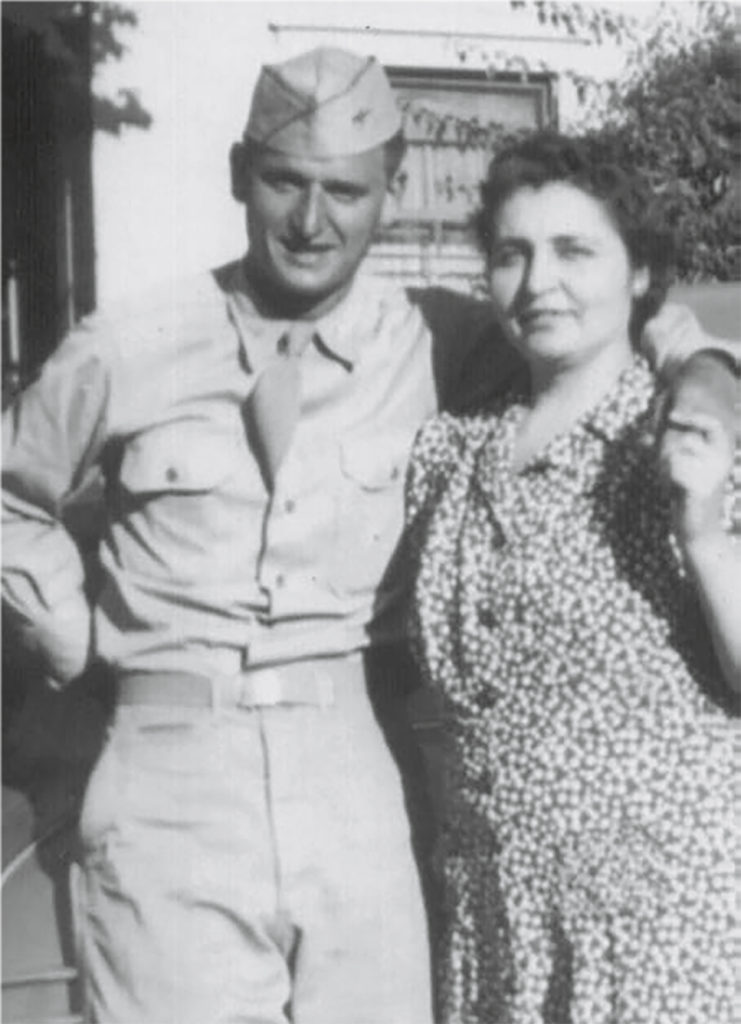 Washington, DC, October 7, 2019 – Alex G. Spanos will be honored for his service to our country in WWII with the 2019 Oxi Service Award at a ceremony at the National WWII Memorial in Washington, DC on October 24, 2019. This ceremony is part of the Washington Oxi Day Foundation Courage and Service Awards.
Alexander Gus Spanos left college and joined the U.S. Army Air Corps on February 9, 1942 at the age of eighteen. His dream was to become a pilot and after passing the examinations he was accepted for cadet training. He was sent first to Lincoln Army Air Field in Nebraska and then to Wayne State College near Sioux City, where the Army had established one of its Army Air Corps Cadet Training Programs, and he was made a flight officer. But half way through his training, an unexpected turn of events left him unable to complete his training. He was devastated. Committed to continuing his service, he was transferred to the B-29s, where he became a gunner, eventually stationed at Drew Field in Tampa, Florida.

As part of the Third Air Force at Drew Field, Spanos was part of bomber aircraft training and locally based antisubmarine patrols of the eastern seaboard to secure the east coast from German submarines. At war's end he was transferred to Turner Army Airfield in Albany, Georgia and then to Naval Air Station, Santa Ana. His service complete in February 1946, Staff Sgt. Alex Spanos was discharged from the Army Air Corps and returned home to his family's business in Stockton.

One of six children born to Greek immigrant parents in South Stockton, California, Spanos had a tough upbringing. But this tough upbringing was also an endless source of inspiration and determination to overcome obstacles in his life.

In 1948 he married "the love of his life," Faye Papafaklis, whom he met in 1945 while visiting the large Greek community at Tarpon Springs near Drew Field. In 1951, at the age of 27, Spanos decided he could no longer support his growing family on $40 per week, so he borrowed $800, purchased a used catering truck and set out on his own providing catering and housing support services for the migrant farm workers in California's Central Valley.

Resourceful and unafraid to take risks, in 1960 he next opened an apartment construction company. By 1978, A.G. Spanos Construction was the number one apartment builder in the nation. From its founding through 1983, the company built 46,000 residential units and over 2.5 million square feet of commercial property. By 1985 it had Division offices in 15 states. From his humble beginnings, Spanos' tireless work ethic built one of the leading real estate and development companies in the industry.

In 1984, Alex next fulfilled a lifelong dream by buying the San Diego Chargers. As a young man he had longed to play football but couldn't because he had to work in the family diner after school.

As a public figure and NFL owner, he supported hundreds of critical causes, donating and raising millions of dollars to support charities around the country. Among those causes near and dear to his heart was the USO. Along with the millions he personally raised for them, he also served as the Honorary Chair of the USO's national Fiftieth Anniversary Salute in 1991.

Spanos' community spirit and generosity were renowned. Few matched the benevolence and philanthropy that Alex and Faye, married for more than 69 years, displayed throughout their lives in supporting deserving institutions and community-service efforts.

Through it all, Alex Spanos took great pride in his Hellenic heritage and Orthodox faith. Whenever he was called upon to help with the Church, the Greek American community or even the country of Greece, he wholeheartedly contributed his resources and time.

In 2008, the President of the Republic of Greece, Mr. Karolos Papoulias, awarded Spanos the Medal of the Commander of the Order of Honor. The honor came in recognition of his many contributions to the birthplace of his parents.

Alex never forgot where he came from and the difficult years of his childhood. He had a special empathy for those in need, those struggling to survive and those with insurmountable problems.

These acts of caring demonstrated the commitment of a man whose rags-to-riches story served as an inspiring example for others. Though his life took him places he never dreamed possible, Spanos continued to reside in his hometown of Stockton, Calif. until his passing on October 9, 2018 at age 95.
Previous Greek-American recipients of the Oxi Service Award include:
Alexander Martin Georgiades (2018)
George Possas (2017)
Colonel George Stavridis (2016)
James Moshovitis (2015)
Major Nicholas J. Bouras and Sam J. Bouras (2014)
Lt. Colonel Christopher Mehiel (2013)
Brigadier General Mike P. Cokinos (2012)
Andrew Athens (2011)