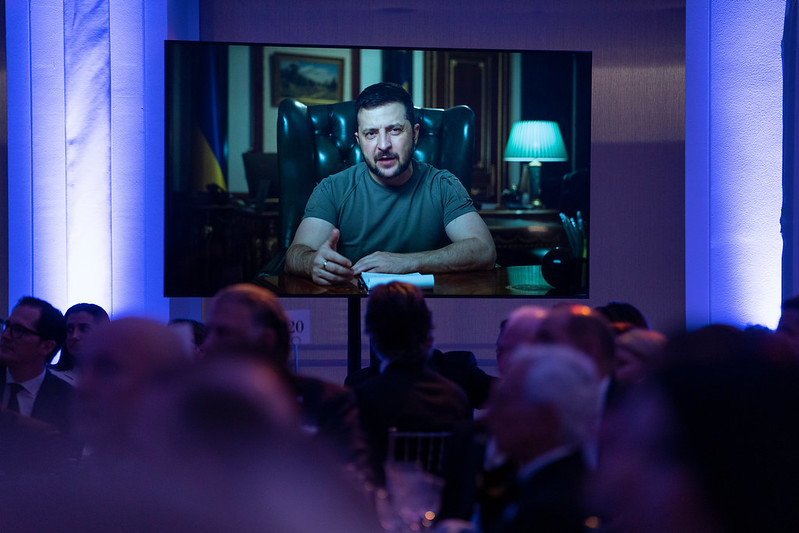 WASHINGTON, DC, November 8, 2022 – President Volodymyr Zelenksyy accepted the 2022 Oxi Courage Award on behalf of the brave people of Ukraine and delivered rousing remarks from his desk in Kiev.

To see a video of the presentation of the Courage Award to President Zelenskyy click here.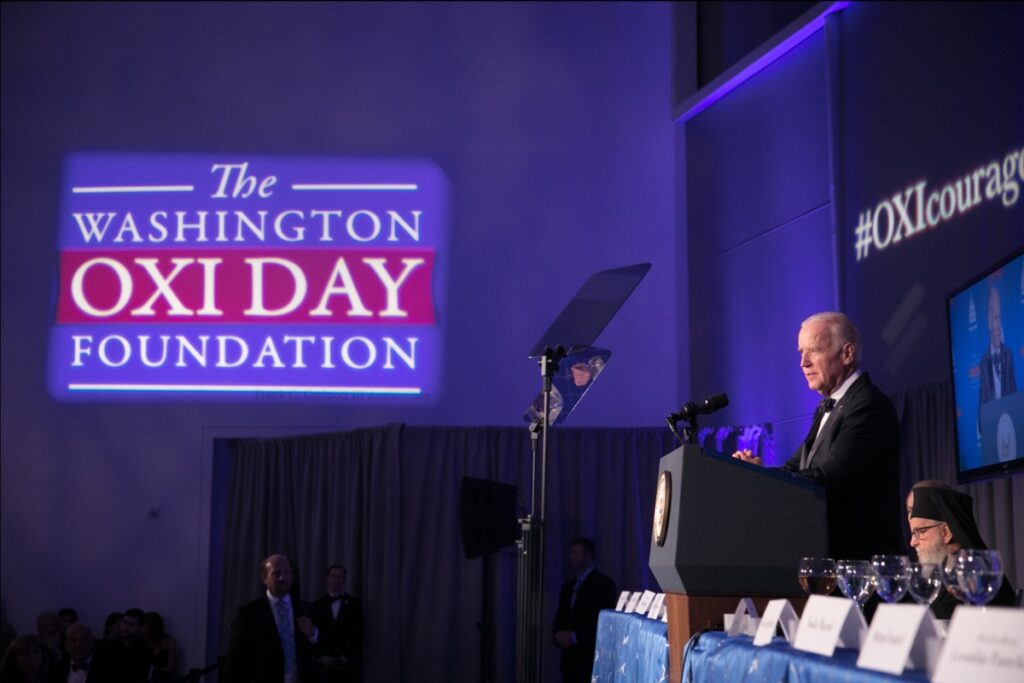 President Joe Biden, who, with his son Beau Biden (posthumously), received the 2016 Oxi Courage Award, said on this occasion:

"Men and women of courage can change the fate of nations. It happened during World War II, when Axis forces came demanding Greece's surrender. But the Greek people had only one answer: OXI! NO! With that one word, they said NO to oppression, NO to submission, and NO to defeat. Greece never bowed to tyranny, and it inspired the world through its commitment to standing up for what is right – a legacy both President Volodymyr Zelenskyy and Masih Alinejad carry on today.
In President Zelenskyy, the people of Ukraine have a leader worthy of their bravery and sacrifice. Over the last eight months, his devotion to duty has inspired purpose, hope, and determination in so many and honored the heroic women and men of Ukraine who are fighting for their country' s democracy…[they] have proven that the power of many will always be greater than the will of any one dictator and that courage can conquer darkness.

President Zelenskyy and Masih Alinejad have summoned the courage to choose the right course, even when it was the harder course. Their powerful example has inspired people around the world to summon their own courage and defend freedom. Their commitment reminds us that the darkness of autocracy is no match for the flame of liberty, the courage of one person can light the souls of free people everywhere, and that hope and freedom will always win over fear and tyranny.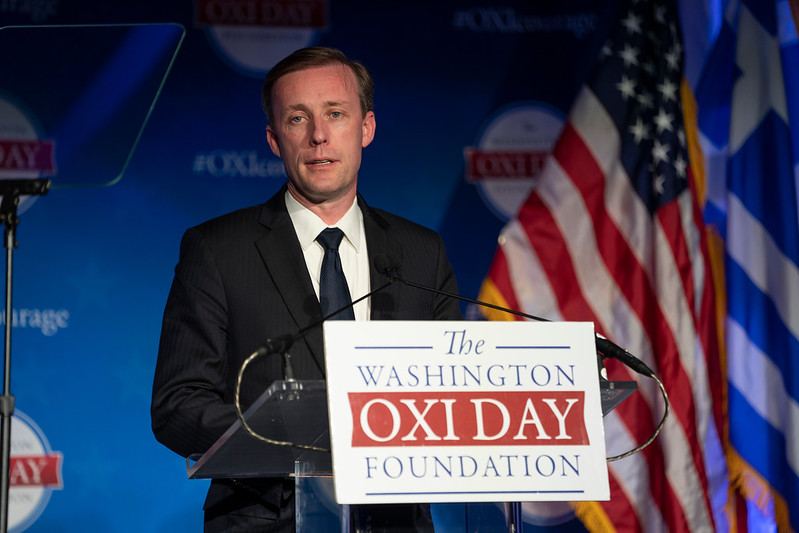 In his introduction of President Zelenskyy, White House National Security Advisor Jake Sullivan said: 
 
"Here in Washington, it often feels like competition and conflict steal the headlines. But every October, [the Washington Oxi Day Foundation] reminds us what is truly worth celebrating: courage, conviction, commitment to our shared values.
 
Just eight months ago, Russia launched an unprovoked assault against Ukraine, expecting a swift surrender and a quick defeat… But Putin underestimated one key factor, the people of Ukraine…Out-gunned and out-manned, those men and millions of other Ukrainians stood their ground. They chose to defend their freedom, and in the face of fear they all decided to say "No". And the loudest, most piercing "No" of all came from the leader we are honoring tonight, President Volodymyr Zelenskyy.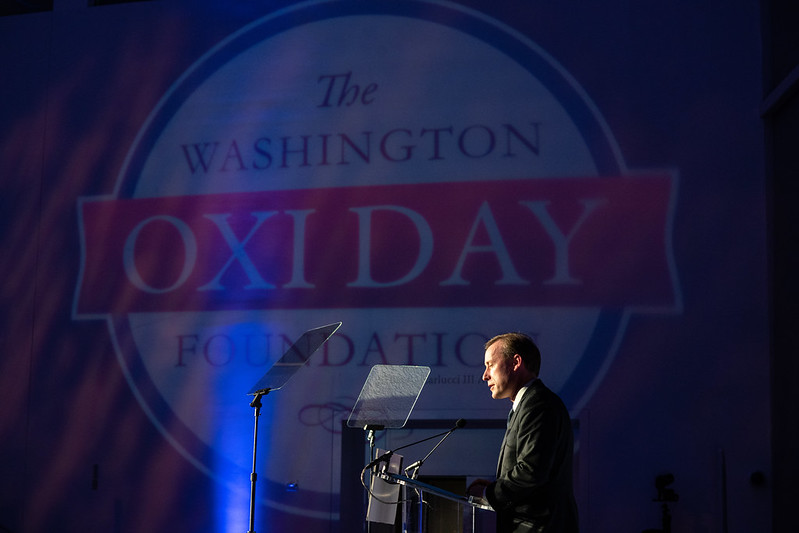 Sullivan continued, "When Putin surrounded Ukraine's borders, trying to induce this surrender, President Zelenskyy declared "If you attack, you will see our faces. Not our backs, but our faces". Throughout the war, this Russian government has seen the courageous face of Ukraine, a people determined to defend their democracy, their liberty, their freedom, their sovereignty, their territorial integrity…as Russian aggression continues every day, including this very day, we, like the Ukrainian people, will not be knocked off course. We will continue to support Ukraine for as long as it takes.
 
…The Ukrainian people, led by a brave, principled and determined President, remind us of the better world that we are all determined to see. A world in which conviction matters and in which courage counts. A world in which saying "No" to fear, to violence and to brutality makes all the difference.
 
…It is very difficult to think about somebody who is more appropriately being honored for this award in the 12 years of its existence than the person who has stood athwart this Russian onslaught and said "No" day after day on behalf of his people, beside his people, leading his people than President Zelenskyy."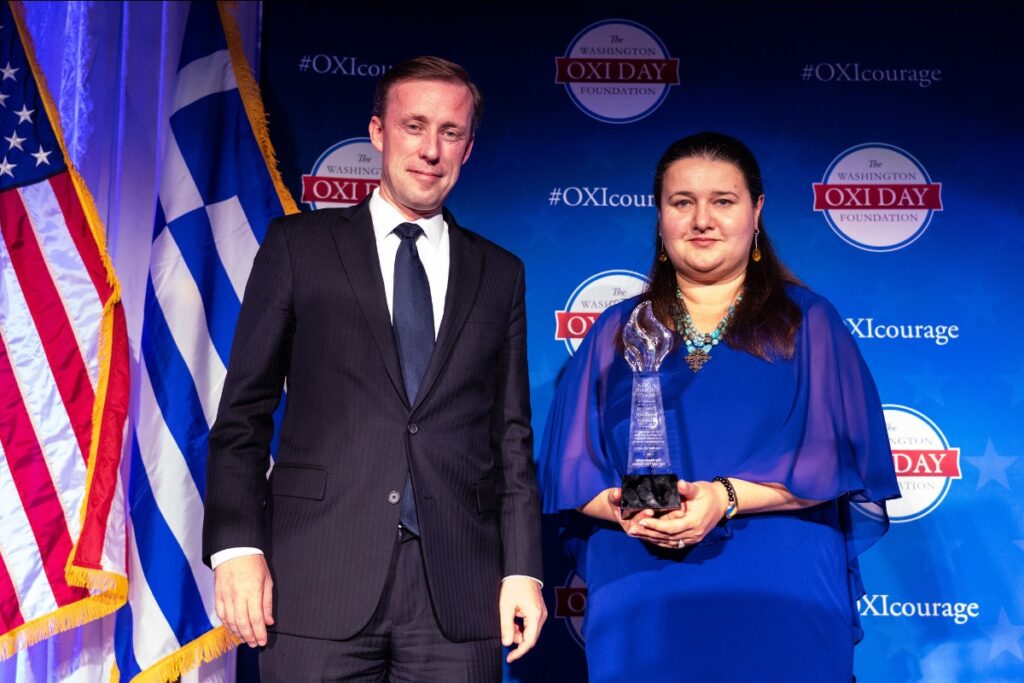 President Zelenskyy said to a sold-out crowd gathered in Washington at the US Institute of Peace:
 
"Greetings from Ukraine, the country that is already called the global center of courage. This year we are reminding to the world that courage can do things that no one expects. There is no Goliath that David cannot beat when he's not afraid and takes the fight.
 
…I'm not afraid of Russian terror. Ukraine will not give up its freedom.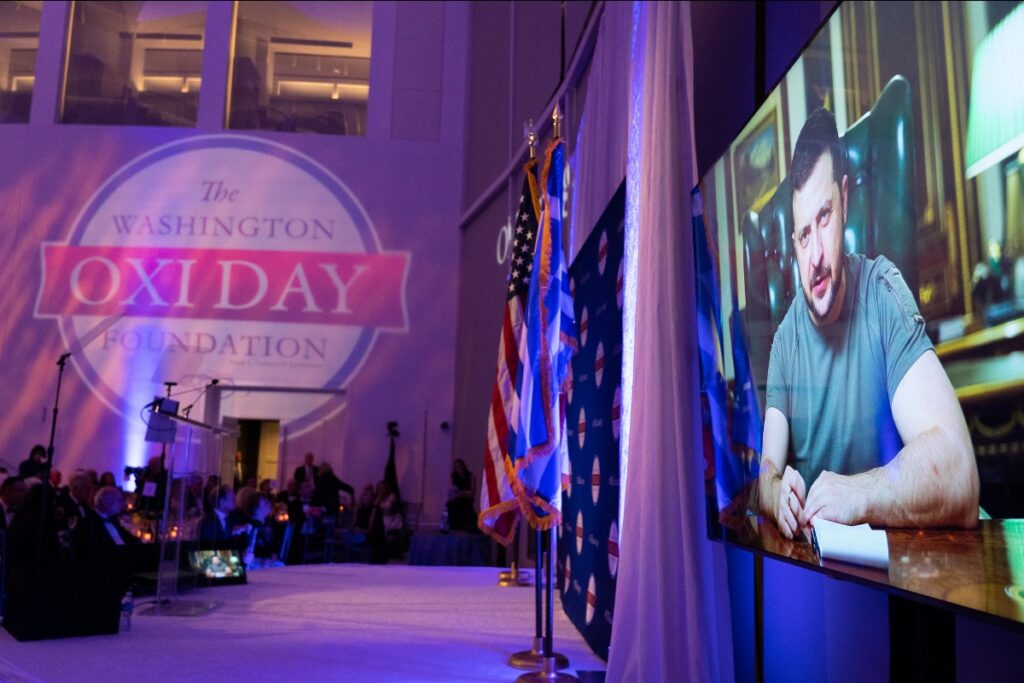 It is important that the Ukrainian people [are] honored with this prestigious OXI Courage Award at the same time as Masih Alinejad, a woman who fights for human rights and truth for all Iranians.
Now, our country is suffering from terrorist attacks by Russia, which are also carried out with Iranian weapons. The Iranian regime has transferred drones to Russia, to destroy our civilian infrastructure…Hundreds of them have already been used against us, and this clearly shows that when there is a threat to freedom, it is a threat to people everywhere. When there is a lack of freedom somewhere, it undermines freedom for all humanity.

…everyone's courage is needed. Courage, which is enough to stand up to terror and punish those who spread death and hatred, who threaten freedom and destroy peace.

Don't hesitate to say no when you see the cruelty of evil like Goliath. Don't give up. Always fight. Do not give up your rights and never betray the desire to live freely, and please help others who fight for freedom. Let victory be the reward for courage.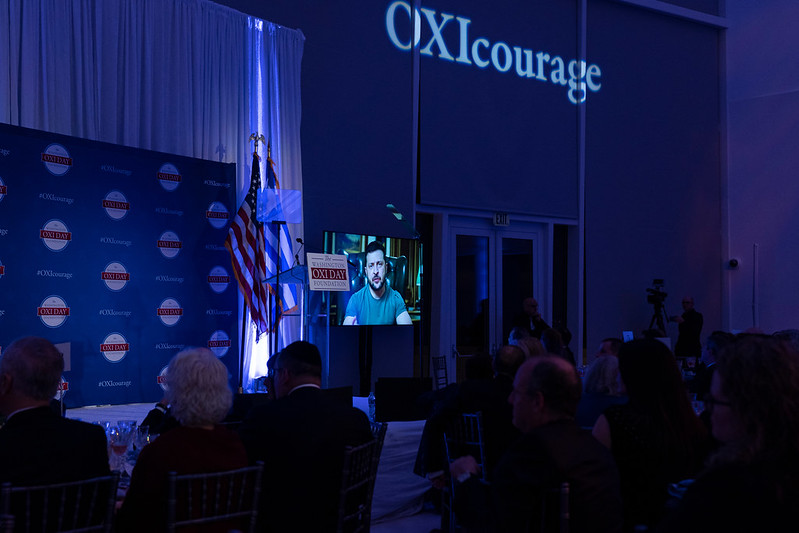 Previous recipients of the Oxi Courage Award have included:
President Joe Biden and his son Beau Biden (posthumously);
Escaped survivor of ISIS atrocities and UN Goodwill Ambassador Nadia Murad (nominated by Amal Clooney) who two years later received the Nobel Peace Prize (in 2018);
TIME Magazine 2018 Persons of the Year journalist and critic of the Philippines' government Maria Ressa (also nominated by Clooney) who later received the Nobel Peace Prize (in 2021) and journalist and critic of Saudi Arabia's government Jamal Khashoggi (posthumously);
Currently imprisoned for his public opposition to Russia's invasion of Ukraine, twice-poisoned Russian democracy activist and dissident Vladimir Kara-Murza;
US conflict journalist James Foley (posthumously) [nominated and introduced by former President Bill Clinton], just months after he became the first American brutally and publicly executed by ISIS; and
North Korean defector and human rights activist Ji Seong-ho, who, just 3 months later, was featured before millions around the world in the President's State of the Union address.