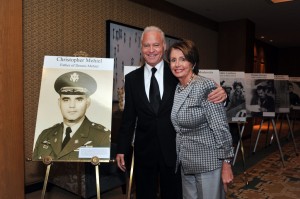 Christopher Mehiel, the late father of Dennis Mehiel of New York, and Andrew A. Athens of Chicago demonstrated their Oxi Day spirit, as they risked their lives in WWII. Now, over six decades later, Athens and Christopher Mehiel's son, Dennis, are key to the revival of the astonishing story of Oxi Day in the minds of hundreds of Washington policymakers and opinion leaders and thousands around the world. They are helping inspire and honor modern fighters for freedom and democracy. It had been forgotten that in WWII the people of Greece displayed one of the most consequential David vs. Goliath victories for freedom and democracy in modern history.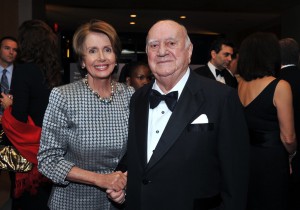 Andrew A. Athens and an anonymous supporter were Founding Platinum Sponsors of the First Annual Washington Oxi Day Celebration, while Dennis Mehiel was a Gold Sponsor. Andy and Dennis are pictured at one of the Foundation events with the first woman in American history to rise to the position of Speaker of the U.S. House of Representatives, Nancy Pelosi. George Tsunis, who was unable to attend the Oxi Day activities in Washington due to the birth of his and his wife Olga's daughter Yanna Maria, and another anonymous contributor were Silver Sponsors.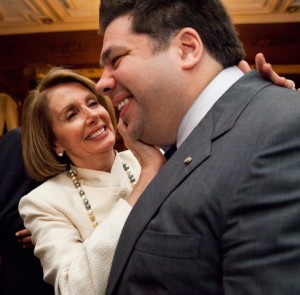 Many generous members of the Hellenic community who sponsored at the bronze level also helped make the communication of the Oxi Day message to hundreds in America and thousands around the world. They include: Admirals Bank, Maria Allwin, Calamos Investments, James Chanos, Nicholas E. and Kathleen Chimicles, Edward Marc Chocolatier, Georges Enterprises, Georgetown Cupcake, James H. Moshovitis, Nikos Mouyiaris, James Pedas and Theodore Pedas, George & Cathy Sakellaris, Theodore G. Spyropoulos and Angelo K. Tsakopoulos.
Manatos & Manatos was pleased to do its part in this important effort. It contributed significantly more than half a million dollars worth of billable hours of work over the year to make sure that the Oxi Day message reached hundreds of national policymakers and opinion leaders and thousands internationally.